Unforgettable fly fishing excursions, on
some of the best waters in
Montana
Join one of the largest permitted outfitters on the only restricted access rivers in SW Montana. Conveniently located in Dillon Montana and home to the famed Beaverhead and Bighole Rivers
Checkout out our Flyshop!
Our Fly Shop is fully stocked with everything you need to make your day on the water comfortable and successful. 
Just some of the brands we carry are Simms, Redington, Sage, Scientific Anglers, Ross Reels, Dr. Slick, Chums, Clic Eyewear, Costa, and Echo.  Stop in our shop for the latest friendly advice, book a trip, replace that old gear, or just say hi. 
426 S. Atlantic Street in Dillon Mt
Unforgettable fly fishing excursions, on
some of the best waters in
Montana
Join one of the largest permitted outfitters on the only restricted access rivers in SW Montana. Conveniently located in Dillon Montana and home to the famed Beaverhead and Bighole Rivers
At Backcountry Angler we take guiding and fishing seriously and have fun every minute doing it. Our guides are hand-picked to ensure the highest quality experience for each and every one of our anglers. They have years upon years of experience and most importantly that experience is on the rivers we fish every day, ensuring they know the conditions daily, what's working, what's not, where to go, and where not to go. Whether it's a day or a week with us, we will leave you with an experience of a lifetime and will work the hardest we can to have fun and catch fish.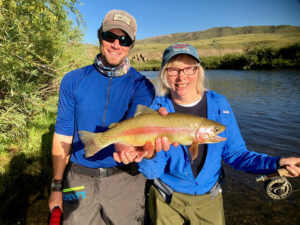 The Beaverhead River is a small tailwater that originates at Clark Canyon Dam. It flows for approximately 69 miles until...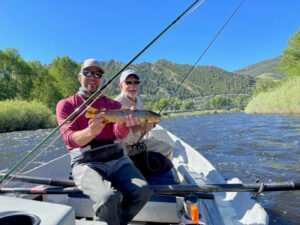 The Big Hole River starts high in the Beaverhead Mountains of Montana and runs for approximately 153 miles before its confluence with the...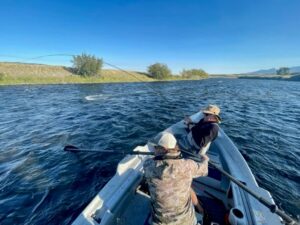 Often referred to as the 100-mile riffle the Madison starts its journey in Yellowstone Park before meeting up with the Jefferson and...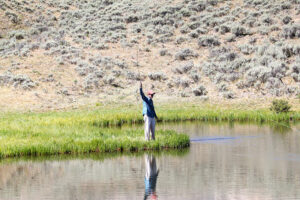 Looking for something off the beaten path near Dillon Montana or want to fish some more secluded areas....
The River House
Conveniently located close to town but far enough away to feel secluded, come fish and stay with us at the River House. If the day on the river with our guides hasn't worn you out enough, this house is located right on the Beaverhead River and a quarter mile from Dillon's famous Poindexter Slough. The house has 4 bedrooms, 3 ½ baths, a full kitchen, tv, internet, awesome large deck right on the river with a fire pit for telling fish stories while winding down for the next day's adventure. It is perfect for groups of 4 or more and can handle up to 8 comfortably. Book your next fishing getaway with us soon, this place books up fast.
The Fly Shop Inn
The Fly shop inn is conveniently located right behind our fly shop and is close to town and its various restaurants. With two queen beds, a tv, internet, a small kitchen, and all the necessary amenities, the fly shop inn is perfect for couples or traveling buddies looking for a relaxing comfortable place to stay and fish.